Keep your home comfortable and safe with the expert services of Burns Air Care. As Eastern Indiana's leading air duct and dryer vent cleaning and maintenance company, we offer comprehensive solutions for all your indoor air quality needs. we are equipped to handle all types of air duct and dryer vent cleaning, as well as gas fireplace maintenance and installations. Trust us to provide you with the peace of mind you deserve, knowing that your home is in good hands!
Call for a FREE quote today!
765-993-1481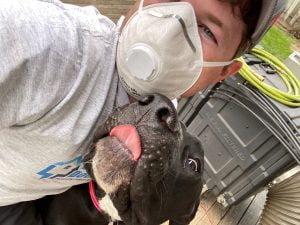 Should I Get My Air Ducts Cleaned?
Should I have my air ducts cleaned?
Why Air Duct Cleaning?
Your home's indoor air quality (IAQ) is important, and having a clean, properly functioning heating, ventilating and air conditioning (HVAC) system is vital to maintaining a clean healthy and comfortable living environment.
The EPA estimates that indoor air quality is 2 to 5 times more polluted than outdoor air. Poor air quality has been linked to both short-term and long-term health problems. The EPA warns that the following conditions can be caused or exacerbated by poor indoor air quality:
Asthma, allergies, and other respiratory problems
Headaches
Eye and skin irritations
Memory loss, dizziness, fatigue and depression
Even more concerning, other health effects from highly toxic airborne particles could show up YEARS later, including heart disease, respiratory disease, reproductive disorders, sterility and even cancer. Poor air quality has been linked to both short-term and long-term health problems.
Check out this article - INSIDE Your Home: The Ugly Invaders Which Can Make You Sick
A newly cleaned air duct system runs more efficiently than a dirty one, resulting in lower utility bills and a cleaner, less dusty home. Over time, contaminants build up inside your duct-work, making your air duct system a breeding ground for mold spores, bacteria, fungus, mildew and other microbes, which are then re-circulated through your home, impacting the health and comfort of your family.
Those who suffer from allergies asthma or other respiratory ailments, especially children and the elderly, are vulnerable to the effects of indoor air pollution.
---
Don't put it off! Call for a FREE quote today! 765-993-1481
Areas we service: Richmond IN, Connersville IN, Centerville IN, Liberty IN, Cambridge City IN, Fountain City IN, New Castle IN, Muncie IN, Eaton Ohio & Surrounding Areas
Services we provide: Air Duct Cleaning, Dryer Vent Cleaning, AC Duct Cleaning, Gas Fireplace Maintenance, Gas Fireplace Repair, Gas Fireplace Installation in Richmond Indiana 47374 and other surrounding areas.